Some Bollywood movies are really worth a thousand watch, but some are not even a single. However, there are some movies that will always be remembered for their awesome songs. Music, for these films, is the only saving grace.
Here is a list of 15 movies that you might not have loved watching, but definitely have the songs stored in your iPod. Or if you don't, it is time for you to download them.
Dil Hi Dil Mein:
Well, when there's the music maestro as the composer, how much ever ridiculous the film might be, songs can never go wrong. Yes, this 2000 movie, Dil Hi Dil Mein, adopted from a Tamil film was a complete disaster in Bollywood Box office. Although the original one was a big hit. But, the song "Ae Nazneen Suno Na" still gets us crooning whenever we listen to it.
Jhankaar Beats:
Who can forget the music that has been inspired by R.D Burman, our beloved Pancham Da. Although no one can recall what the movie was about, the melodies like "Dil Ne Tumko Chun Liya Hai" and "Tu Ashiqui Hai" still touch our hearts.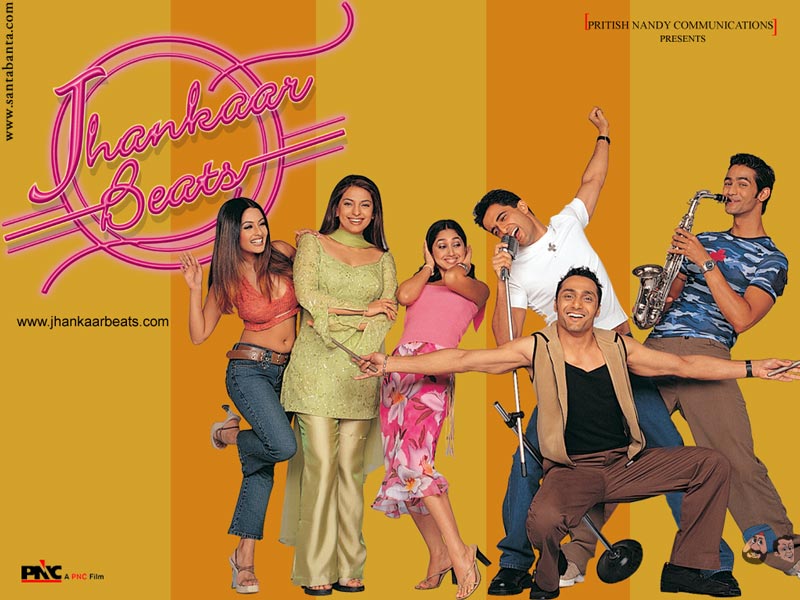 Raavan:
The Abhishek-Aishwarya Starrer Raavan couldn't do well in Bollywood but again Rahman enriched us with some mind-blowing tunes like "Beera" "Ranjha Ranjha" and "Behane De".
Lakeer:
Despite being a multi-starrer, Lakeer failed big time in the Box Office. However, the songs like Paigham and Saadiyan are something you must tune into. Again Rahman proved his magic in this flop movie with his amazing music.
Anwar:
If you can't remember watching the movie ever, you can surely recall its songs, can't you? The beautiful yet melancholic melodies like "Tose Naina Laage" and "Maula Mere" will never fail to take you to a different world. But, again saying, the movie was a huge flop.
Aashiq Banaya Aapne:
Many have watched the movie just to check out sexy Tanushree Dutta and her raunchy scenes with the "serial kisser" Emraan Hashmi in the title song. But, undoubtedly Himesh Reshammiya has really put in a lot of passion in the song.
Jhoom Barabar Jhoom:
Yes, it was expected to be a big hit. But sadly, it had let us all down. Jhoom Barabar Jhoom couldn't attract viewers but one song really threw some magic in the movie and that is "Bol Na Halke Halke". Composed by Shankar-Ehsaan-Loy, sung by Rahat Fateh Ali Khan and Mahalaxmi, it can just make you fall in love all over again.
Tashan:
Except the buzz around Kareena Kapoor and newly-achieved size-zero, Tashan will only be remembered for its rocking music. It can keep you grooving, it can also make you all romantic. Listen to "Falak Tak" and "Chhaliya" and don't forget to watch Bebo.
Kites:
In spite of the spicy gossips about Hrithik and Barbara Mori, this film didn't work. Poor story line, hardly any acting, you just can't watch the whole movie at one go. But, the positive side is its melodies. Rajesh Roshan has created some memorable soundtracks like "Dil Kyun Yeh Mera" and "Zindagi Do Pal Ki".
Yuvvraj:
Once Again Coming Back to Rahman Sir. The movie was simply un-watchable yet the songs just stick to the heart. "Tu Hi To Meri Dost Hai", "Tu Muskura" are to name a few of those awesome songs.
Dilwale
The fans of King Khan had a lot of hope, though! Yet the much-awaited Shahrukh-Kajol movie Dilwale couldn't do the magic. However, the songs like "Gerua" and "Janam Janam" still saved it from drifting into complete oblivion.
Pyar Mein Kabhi Kabhi:
You might have played Antakshari in your childhood and whenever you had to sing with Alphabet "M", the first song that came to mind was "Musu Musu Haasi", isn't it? Although you can't really recall the movie name Pyar Mein Kabhi Kabhi, the song still rings in head.
Meenaxi – A Tale Of 3 Citizens:
The movie might have been lost, but the songs like "Yeh Rishta" and "Chinnamma Chinnakamma" composed by A.R Rahman are not easy to forget. The music videos are also awesome to watch.
Paap:
The movie didn't see success in Box Office, though it had a lot of lovey-dovey scenes between Udita Goswami and John Abraham. What worked was only the superb melodies like Rahat Fateh Ali Khan's "Lagi Tumse Mann Ki Lagan".
Tum Bin:
You can't say the movie was a hit, yet people liked watching it. However, you may or may not have liked the movie, but you can't say that you don't like the songs. The mixture of all senses, songs like "Tum Bin" Koi Fariyad" and Choti Choti Raatein" have touched many hearts.
Comments